"I'm not a survivalist. I just like knives." ~~Captain Obvious, Captain Obvious and His Witty Parrot
It's not a knife; it's your new EDC.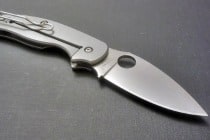 The Spyderco Sage 2 is a knife that you can take anywhere. It's lightweight, easy to carry, and has an ergonomic design which makes it comfortable to hold for long periods of time. You'll find it useful when you're out in the wilderness or if you need to defend yourself against those pesky zombies we keep hearing about on television these days. It comes with a pocket clip so you don't have to worry about losing your knife while out exploring the world around us (or defending against those aforementioned zombies). And yes, this blade is razor-sharp!
1. What do you like about the Spyderco Sage 2 ?
2. Do you think the Spyderco Sage 2 is a good knife for survival?
3. Would you recommend the Spyderco Sage 2 to anyone interested in prepping, survival or bushcrafting?
4. What features of this knife are most useful to preppers?
5. Do you think it's more important that a knife blade be sharp or strong in relation to the other qualities of a good survival knife (i.e., size and weight)?
The Spyderco Sage 2 is a sleek, minimalistic knife that pays tribute to one of the most prominent and influential designers in the world. The design was created by Chris Reeve who has introduced many features into locking mechanisms over his long career including an all-new