In this episode of the Survival Cache Podcast, we'll be talking about EDC or Everyday Carry. What is an EDC? Why do you need one? Where should it go on your body? We discuss all these topics and more in our latest podcast episode!
1. What is your favorite item that's currently in your EDC?
2. Did you carry an EDC before 9/11 happened and if so, what where the contents of the bag before?
3. How did you feel about prepping even before 9/11? Did it change much after that date (if not yet)?
4. Why do you think people are drawn to prepping?
5. Have you ever had a close call while prepping or been robbed / attacked while out with all of your equipment on display when not necessary, how'd this change things for you going forward?
6 What's one thing about being equipped in public – how other people perceive me, what they may find
What's in your EDC Kit? Doc Montana and Drew discuss this important topic on Episode 9 of The Survival Cache Podcast. Listen to the full episode here!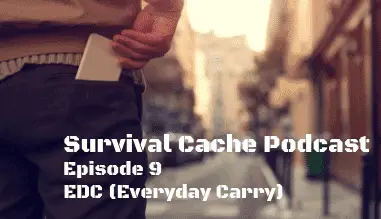 No two people are alike, and we get the chance to hear from a wide variety of listeners about what they carry in their EDC kits. It's always fun hearing how other people stay prepared for emergencies!